8 Secret Things To Do In Rome
Everybody knows what you "have to see" in Rome -- the Colosseum, the Trevi Fountain, the Tiber River, the Vatican, and the Pantheon (that one seriously blew my mind!). But I am not a fan of big "must-see" tourist stops. Yes, each of those places has its merits, and I did check them out (because how could I not?!). But I tried to spend as much time as I could exploring outside the tourist zones, and I suggest you do the same. Some of my favorite things to do in Rome actually occurred while I was exploring off-the-beaten path.
Here's a crazy fact I was surprised to discover when planning my trip to Italy: there is an ancient pyramid in Rome known as the Pyramid of Cestius. Modeled after the Egyptian pyramids and standing 124 feet tall, the Pyramid of Cestius was built sometime between 18 and 12 B.C as the tomb for Gaius Cestius, a Roman senator and general. As someone who has not yet made it to Egypt, it was pretty incredible to see. I imagine, even for someone who has been to Egypt, the juxtaposition of a pyramid in the middle of Rome would still be worth checking out. Opportunities to tour the inside of the pyramid are limited to the 2nd and 4th Saturday of the month, but you can also check out the outside 24 hours a day, as it is located right on the side of the road.
While visiting the Pyramid of Cestius, head next door and visit the the Non-Catholic Cemetery, also known as the Protestant Cemetery. According to their website, the Protestant Cemetery is one of the oldest burial grounds in Europe. It's been in continuous use for more than 300 years, and contains the "highest density of famous and important graves anywhere in the world," including famous artists, authors, scholars, and diplomats. Some of the most notable are the romantic poets Shelley and Keats. For just a 3 euro donation, visitors can explore the grounds (which also double as a cat sanctuary), lined with cypress trees and filled with flowers and greenery. There are grassy spots and a handful of benches for quiet reflection. Not only is it beautiful, but it is possibly the most peaceful location I have ever discovered in an urban environment.
When I first started planning my trip, I used Google Street View to check out places to stay. I noticed that many of the houses and apartments I was considering seemed to be in neighborhoods that were covered in graffiti. Naively, I eliminated these simply because I assumed they were in sketchy neighborhoods. Eventually I picked up on the pattern and Googled "graffiti Rome." I quickly discovered Italians, and Romans in particular, have a very complicated history with graffiti. The mixed feelings stem from an appreciation many have for ancient graffiti as it has provided archaeologists with clues, through the years, that have led to our deeper understanding of ancient cultures versus the eyesore modern graffiti can be today. That being said, while there's a lot of pointless tagging, there's also a lot of really creative street art. You will stumble upon tons of it while just out exploring, but it's also worth downloading the Street Art Roma App, an interactive map with pins dropped at the locations of noteworthy pieces of art throughout the city.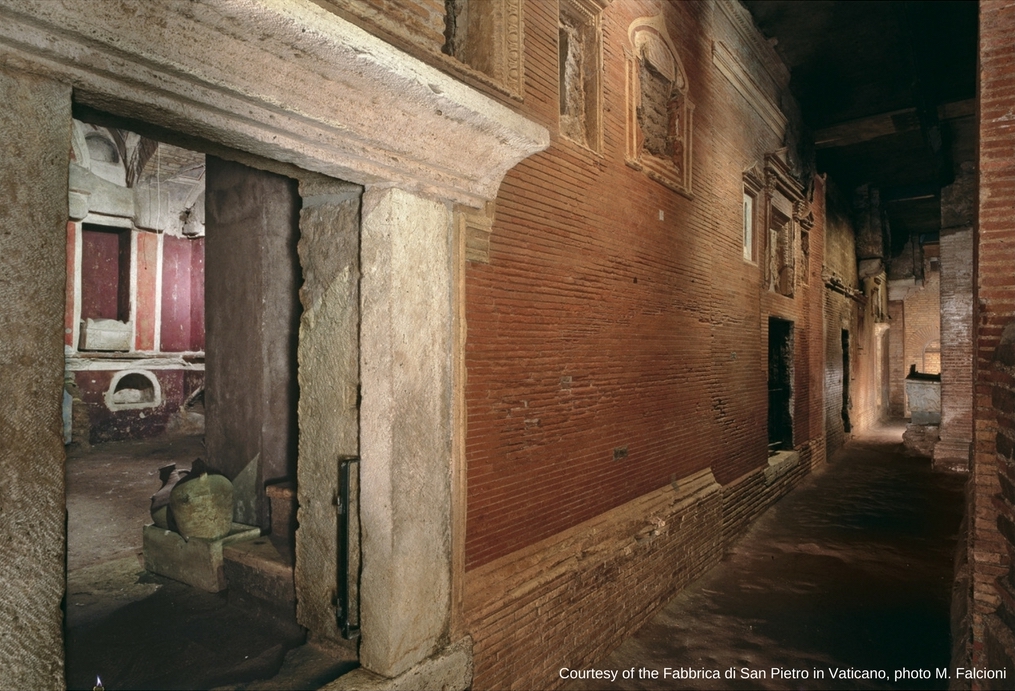 The Necropolis, or Scavi, is located below the Vatican's Saint Peter's Basilica and is an archaeological site billed as a visit to the grave of Saint Peter, but it is even much more than that. The Scavi Tour takes visitors underground five to twelve meters to walk along a popular, ancient Roman lined street with what were once open air tombs and mausoleums, in use up until sometime in the early to mid 300s AD. As guides offer stories and historical context surrounding the shift from Ancient Roman Pagan traditions to the rise of Christianity, the authentic and incredibly preserved setting provides unbelievable visual aids.If there is one secret tour you go on in Rome, this should be it; but make sure to plan ahead by emailing scavi@fsp.vafor a ticket request because out of the more than 20,000 visitors to the Vatican each day, only 250 gain access to the Necropolis. Bonus Tip: At the end of the Necropolis Tour, visitors skip the line and are given direct access to the Basilica.
If I am being honest, I'm not usually a fan of tour companies because I think they can focus on the surface level and generic for a significant amount of money; however, I do think there can be exceptions to this rule. One exception is the "pay what you want" tours because the guides tend to be more passionate and find a great balance between hitting the main sites and offering a unique local's perspective. There are a few options in Rome. I went with the New Rome Free Tour. They offer 2 to 2.5 hour tours leaving twice a day from the Spanish Steps and hit a lot of the major spots, but also take you on to some back streets for some lesser known perspectives. The New Rome Free Tour is free and requires zero payment upon booking (there are some that charge a booking fee. I recommend skipping those because I think it is misleading), but do sign up online in advance. The guides work for tips so bring along some cash, and if you have a nice time, tip them accordingly. I usually toss in anywhere from $5-15.
So this is one that I learned from Gaston, a New Rome Free Tour guide. He told us "You should always push on doors as you pass by, if they open, let yourself in and see what you discover."While this sounds like something that might get you arrested, what he meant was that the Rome from thousands of years ago, is still there. It's just buried below ground because over the years New Rome has been rebuilt above Old Rome. Gaston explained that whenever construction is done on new buildings, workers find all sorts of ancient artifacts from whatever lies within the foundation of the modern building. When the new building is complete, they display the artifacts within the courtyards. So his point was that if you see an open door or gate and you go in to explore, you will most likely discover a bunch of ancient artifacts.
Note: I wouldn't recommend letting yourself in to people's homes, but there are a lot of public spaces like museums, hospitals, offices, etc. that leave their gates open. I would highly recommend taking the time to explore in this way. My experience with this is one of my favorite stories from my time in Rome.
The Church of Saint Ignatius is one of the stops along the New Rome Free Tour; but if you don't get to do the tour, this unique illusion is still worth checking out on your own. In 1642, while building the church, they ran out of money and had to cancel their plans for building a monumental dome. Instead Andrea Pozzo, a Jesuit brother, Baroque painter, and architect, suggested painting a life sized illusion to make worshippers believe they were viewing a dome.Painted between 1685 and 1694, this insane piece of perspective work still fools visitors today. When you first enter the church, you'll find a yellowish marble circle marker on the ground. This is considered the most ideal vantage point for viewing the dome and ceiling.After you've taken it all in, walk towards the altar. As you pass under the dome, you'll get to take in the alternative perspective… one that makes it look like the entire dome is toppling!
The Domus Aurea is one of the many underground tours you can go on in while in Rome, like the Vatican's Necropolis that I mentioned earlier and the Palazzo Valentini. Each of these tours has its own selling points and offers unique views of Ancient Rome. One of the newest tours, the Domus Aurea, takes guests through the recently renovated remains of the expansive residential palace of the Emperor Nero, built in 64 AD after much of Rome was destroyed by fire, including the palatial villas on the Palatine Hill.The tour, still a bit rough around the edges, requires that guests wear hard hats as they move through the majority of the palace rooms. The highlight is a virtual reality experience that allows visitors to experience the palace in all its grandeur, taking them for a walk through the landscaped palace grounds and out to the edge of the hill for a look out at Ancient Rome in all its glory.I'm not kidding: sometimes I think back on this moment and have to consciously remind myself that what I saw wasn't real. Note: The entrance is not located at what Google Maps has listed as the Domus Aurea but at the ticket office, which is listed on Google Maps as Biglietteria Domus Aurea. I unfortunately learned this lesson the hard way and missed the first half of my tour because of it.
Let me know which places you're most looking forward to checking out, and if you've already been to Rome, I would love to hear what "off the beaten path" places you found and would recommend.
Looking for other great tips in Rome? Here are five delicious cheap eats I loved in Rome.